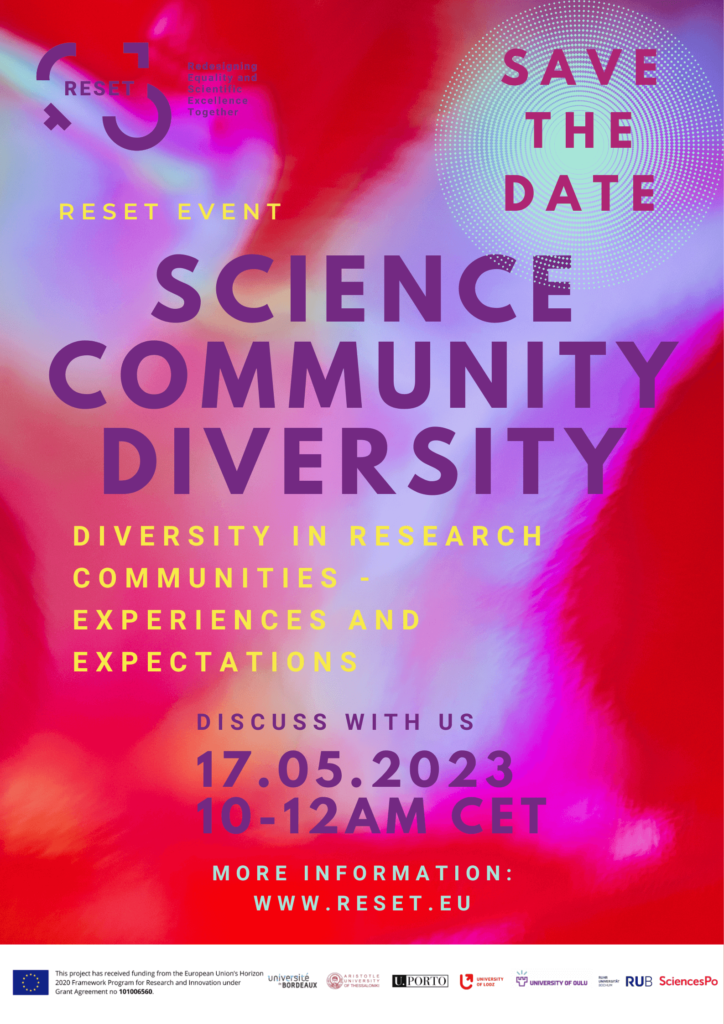 In light of the European Diversity Month in May, the project RESET – Redesigning Equality and Scientific Excellence Together would like to open with this event a space to collectively highlight – and discuss with members of the project universities and other HEIs – different aspects of diversity in the context of scientific communities.
Here, we start especially with the aspect of communities, and ask what "together" means in relation to diversity. How do research communities become diverse, and how do they honor the diversity of their members? What are the various demands and concerns that individuals from research communities direct to universities? And most importantly, what contribution can we all make to help shape academic culture in a diversity-friendly way?
In this event, we would like to provide the space to discuss these questions together with early career scientists from different European universities. For this purpose, after a short input on the content, we will open different spaces in which scientists can network together, on the guiding questions and main topics listed below.
17.05.2023; 10-12:00h CET
Timeslot

Talk title / Speaker

Welcoming and introduction to the session

Keynote on diversity and visibility

Michalina Trompeta, Anti-Discrimination officer of Ruhr University Bochum

Parallel break-out sessions

Mobility and Internationalisation (Maxime Forest, SciencePo Paris)

(In-)Visiblity and Diversity (Yazgi Yilmaz, Ruhr University Bochum)

Shaping research communities by preventing discrimination (Isabel Pinto, UPorto)

Final Discussion, End of Event
More information about our speakers:
Michalina Trompeta is the first Diversity and Anti-Discrimination Officer at Ruhr University, since September 2022. She has worked as a research assistant at the University of Cologne, most recently at the Intercultural Educational Research Working Group and at the Centre for International Relations at the Faculty of Human Sciences. Her main areas of expertise in research and teaching included race theory, criticism of racism in educational work and intersectionality. In this field, she also worked as a consultant and received further training in diversity-sensitive counselling.
Maxime Forest is a Research Associate and Lecturer at Sciences Po (OFCE), Paris, and involved in RESET as an evaluator of the project. He is an expert in policy analysis and gender equality with a 15 years long experience of applied research in the fields of social sciences, and public policy design, implementation and evaluation. As a consultant, he is involved in designing gender equality action plans and gender training instruments for private and public organizations, and managing projects related to social innovation and policy change. He regularly provides expertise to the European Commission (DG Research, DG Just), the European Institute for Gender Equality and the Council of Europe.
Yazgi Yilmaz is a master of education student majoring in English & History at Ruhr University Bochum and a certified Talentscout and founder of the student initiative "Talent Network" at the Ruhr University. The network consists of first generation students, who support and empower each other to achieve a better orientation and visibility on campus and the following entry into the career world. Their goal is to contribute to the equity in the education system.
Isabel Pinto has a PhD in Social Psychology, on reaction to deviance in intergroup contexts. She is the director of the Social Psychology Lab of the University of Porto, and coordinator of the Research Group "Culture, Normativity and Diversity", from the Centre of Psychology at the University of Porto (CPUP). Furthermore, she is the member of the Executive Board of the Portuguese Association of Psychology. Her research interests are psychosocial processes associated to : 1) deviant behaviour (namely hate crime and economic crime); 2) extremisms (focusing on social conflict) and populism; 3) discrimination and social exclusion; and 4) prosocial and pro-normative behaviour (social innovation). She is involved (as PI, team member or member of the Advisory Board) in research projects about hate crime, perceived impact of corruption, inclusion vs. discrimination of refugees in EU, extremisms, populism, disinformation, and conspiracy thinking, and social network misbehaviour.