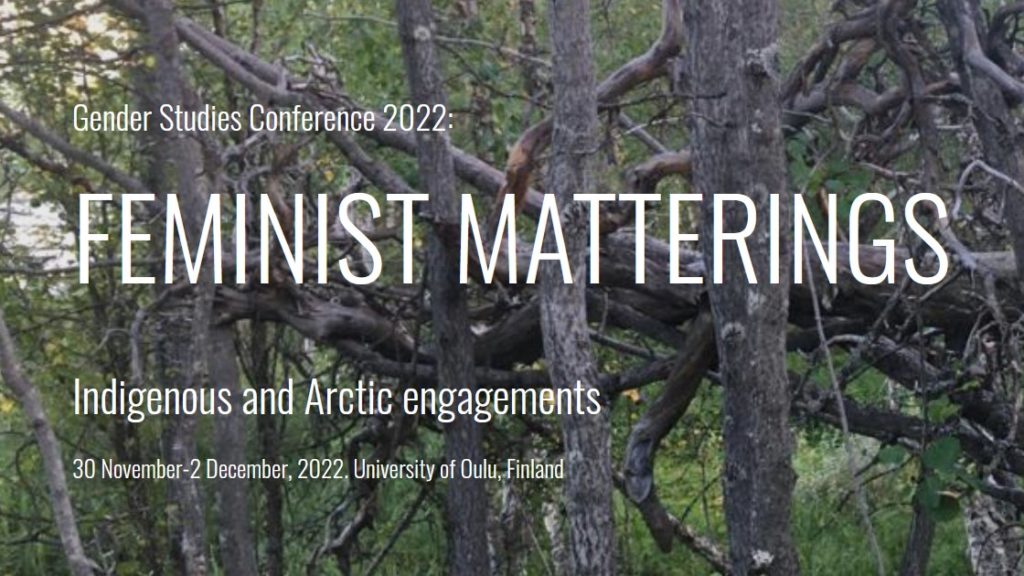 CALL FOR WORKSHOPS FOR SCHOLARS, ACTIVISTS AND ARTISTS
Deadline for submissions: 20 March, 2022
Gender Studies Conference 2022
Feminist matterings: Indigenous and Arctic engagements
30 November–2 December, 2022, University of Oulu, Finland
https://genderstudiesconference2022.edu.oulu.fi/home
Our lives are increasingly being reshaped by multiple changes, such as increased mobilities of people and goods, digitalisation, and rapid changes in the labour market. New challenges include, for example, the cutting of public sector resources, the increased market conformity of societal systems, social polarisation, violence, climate change, biodiversity loss, and increased global and local inequalities due to the Covid-19 pandemic. These challenges require thinking differently in open, inclusive, and responsible ways. As an interdisciplinary field of research, Gender Studies and feminist research play an important role in producing knowledge about multifaceted social problems and inequalities.
The conference seeks to produce new feminist and Indigenous thought to reimagine future solidarities and ways of knowing. The conference calls to explore how rich transdisciplinary collaboration can help feminist research matter in the effort to build more sustainable, intelligent and humane world(s) in the Arctic and beyond. In addition to alluding to the ethico-political significance of feminist research, the keyword matterings in the conference title also refers to new materialist inspirations and the material aspects of knowledge production. In the spirit of Science and Technology Studies (STS), we wish to investigate the material aspects of epistemic practices and the complex relationship between
knowledge and power. The conference also welcomes scholars who are interested in developing different ways of decolonizing feminist knowledge, including, indigenous STS studies, antiracist knowledge production, arts activism(s), ethics of knowledge, and queering knowledge and research methodologies. The location of the conference at the University of Oulu, in northern Finland, also provides a unique opportunity to approach these themes from the perspective of Arctic research.

The keynote speakers at the conference are:
Professor Suvi Keskinen, The Centre for Research on Ethnic Relations and Nationalism, Swedish School of Social Science, University of Helsinki.
Professor Dorte Marie Søndergaard, Danish School of Education (DPU), Aarhus University, Denmark.
Associate Professor Kim TallBear, Faculty of Native Studies, University of Alberta, Canada.
The Gender Studies 2022 conference is organized and hosted by the
Gender Studies at the University of Oulu. It is organized in collaboration with the Association for Gender Studies in Finland (SUNS) and the Giellagas Institute, which focuses on research on the Sámi language and culture at the University of Oulu.
The conference will combine face-to-face and online presentations. Please follow our social media to find out about the latest information: Twitter (@GenderOulu), Facebook and Instagram (@GenderStudiesOulu).
Call for workshops is open
The call for workshops on academic and activism related themes is now open. You can propose either an open workshop or a panel with a closed call. To be open to diverse ways of knowing and knowledge production, we encourage workshops to come up with creative artistic and activist formats. You can also propose a virtual session. We welcome workshops related to the key themes of the conference as well as to other topical themes in gender and feminist research. We invite you to submit proposals for workshops in English since this is an international conference. However, if you wish to
hold an artistic exhibition or community panel, you may also submit the abstract (short description of the workshop or other session) in Finnish or Swedish.
The academic workshops will be held in English, but we encourage multi-lingual activist and artistic expressions in exploratory workshops (e.g. Sámi languages, Russian, Arabic, Persian).
Call for workshops is open until the 20th of March 2022. Workshops will be scheduled in 90 minute slots, and we ask the prospective workshop organisers to take this into account when proposing panels/closed sessions. Please contact the organizing committee if you have any questions about the proposal process.
Workshop Submission by 20th of March:
To submit your proposal, fill in the submission form:
https://link.webropolsurveys.com/S/7B5D09DE8915B0C6
Proposals should include information about the chair(s), title, and abstract (max 2000 characters with spaces) and 3-5 keywords.
For more information, please visit the conference website:
https://genderstudiesconference2022.edu.oulu.fi/home