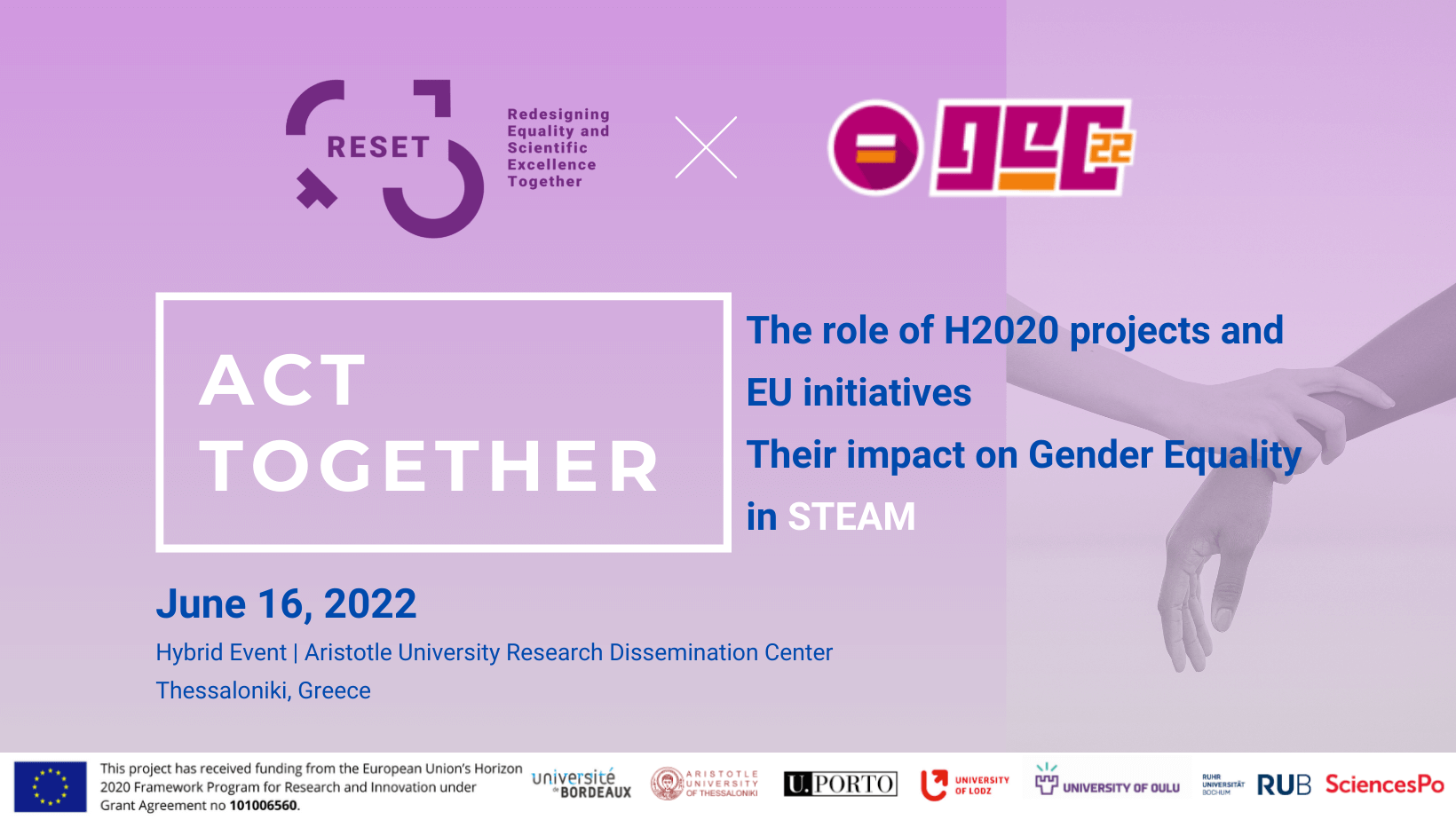 RESET Workshop: "Act Together"
The role of H2020 projects and EU initiatives - their impact on Gender Equality in STEM
EU projects are working on the promotion of gender equality in research and academic communities. Having built a strong network, and raising mutual help, these projects form a strong and sharing community of changing the stereotypes and giving equal opportunities. This workshop is presenting the impact of each project on the targets and the environments in that they are addressed to. An interactive discussion about the expectations and the final outcome of their action.
When
The Workshop will take place on Thursday 16 June 2022 – 14.15 – 15.45 (greek time) during the GEC'22 (4th Summit on Gender Equality in Computing)
Speakers
Laia Tarragona, Uni. of Deustro, Gearing Roles Project Manager & Researcher
Vasia Madesi, Yellowwindow, UniSAFE
Maria Roussou, National & Kapodistrian Uni. of Athens, EUGAIN Science Communication Manager
Marion Paoletti, Uni. of Bordeaux, RESET Project coordinator
Michelle Perello, CEO of Consulta Europe Projects and Innovation S.L., ATHENA coordinator
Giovanna Badalassi, LeTSGEPs
Marcelo Mora, Human Resources Project Manager, Institute for Research in Biomedicine, CALIPER
Maria Flouri, Researcher, ECE – NTUA, CALIPER
Kyriaki Karydou, ViLabs, CALIPER
Yolanda Ursa, Innovation Management Director, INMARK Europa, GENDER STI Scientific coordinator
Luciana Ayciriex, Senior Researcher, INMARK Europa, GENDER STI